About
Soak up history against a backdrop of glorious colonial architecture and riverside parklands as you explore Maryborough's original port district.
Portside offers an incredible range of heritage experiences with heritage-listed restaurants, cafes and pubs, museums and historical collections, unique links to Mary Poppins, inspiring art and culture at Gatakers Artspace, and beautiful Queens Park - one of Australia's first botanic gardens.
Maryborough's Historic Customs Precinct
First established in the 1840s, Maryborough quickly became a thriving port settlement. The town saw significant changes in the late 1850s as Queensland separated from the colony of New South Wales. Gazetted as an official Port of Entry from 1859, the Maryborough Customs House processed new immigrants to the Colony of Queensland. The Customs House also processed goods into and out of Queensland. Alcohol, sugar, tobacco, and opium were taxed on exit and entry, and until these taxes had been paid the wares were "bonded," or held, at the Bond Store nearby.
This is the site where 21,000 immigrants and goods from faraway places made their way into the colony of Queensland. It has played a significant role in making our region the wonderfully diverse community we know today. These buildings illustrate the rapid growth and prosperity of the port of Maryborough in the nineteenth century.
The first part of the Bond Store was designed by Charles Tiffin in 1863. It was expanded several times to form the building we see before us by 1883. John Murdoch Smith designed the current Customs House and adjacent Residence in 1899. Together, the Customs House, Customs Residence, and Bond Store form the Customs Precinct.
Places of Cultural Heritage Significance
The buildings that make up the Customs Precinct are listed on the Queensland Heritage Register and the Fraser Coast Regional Council Local Heritage Register.
Maryborough's Bond Store appears to be the oldest surviving in Queensland and the second-oldest surviving purpose-built government bond store in Australia. Given the Customs House and Residence also remain existent, Maryborough's Customs Precinct is highly significant due to its rarity, intactness, and the fact that it is a comparatively early example of a customs complex in Australia.
Portside's History
Portside Heritage Precinct is the location where thousands of new settlers arrived in the new colony of Australia in the late 1800's. At the time, Maryborough was the second major immigration port after Sydney. In 1859 Maryborough was declared an official Port of Entry with more than 22,000 immigrants entering Australia through the port by 1901.
Wool, tallow, hides and timber were exported through the busy port of Maryborough and many coastal vessels brought supplies for the settlers.
The port may be long dormant, but its history and gloriously preserved buildings remain – along with a sense of time suspended.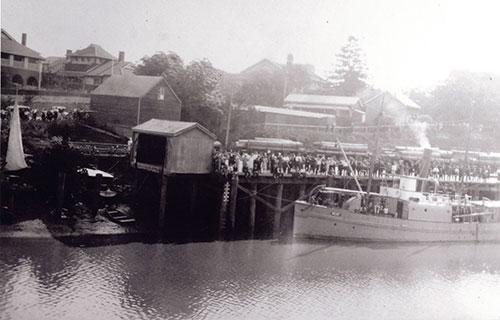 Maryborough's wharves c.1930